Water Features & Lighting
Water Features and Lighting transform your outdoor space. The features can be magical, pushing your landscape over the edge into the stuff of your dreams. We all love the serenity of a water. A fountain, water feature or pond can help create paradise right outside your backdoor.Â
Adding a fountain adds a sensory experience to any landscaping plan. Well thought out and placed fountains can transform your backyard into an outdoor retreat. Water brings a peaceful and restorative atmosphere. The sound ads a hypnotizing element adding movement of the echoing sound of trickling water. Fountain are also a focal point that can set off a front yard or courtyard area.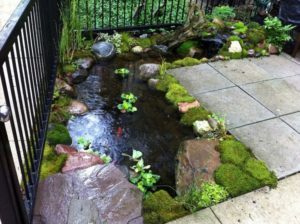 Koi Ponds are often also called water gardens because they incorporate plants into the design. These water features can be very rewarding as well as peaceful. You can imagine yourself stepping out of your back door and into your backyard oasis. You smell the water, see the beautiful water plants and the koi swimming lazily. It allows you to relax and enjoy and bask in the soothing sights and sounds.
Pondless Waterfalls are beautiful and highly sought-after landscape water features. For those with a limited space in their yard, pondless waterfalls are a great solution. Enjoy the sight and soothing sounds of calmly running water.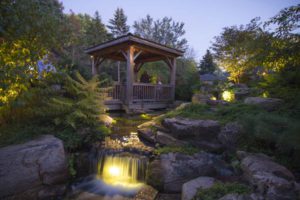 Your new water feature will be stunning during the day. However, when the sun sets you need lighting to enhance the night time views. You will also find that night time brings out a whole new dimension to your landscape and water features. We can add spotlights behind waterfalls, underwater lighting for ponds and flood lights to enhance an entire area, adding a magical look and feel. Enjoy your outdoor space at night and watch your fish dart in and out of their lit up environment.
Call Bolderscapes for all of your water feature needs.